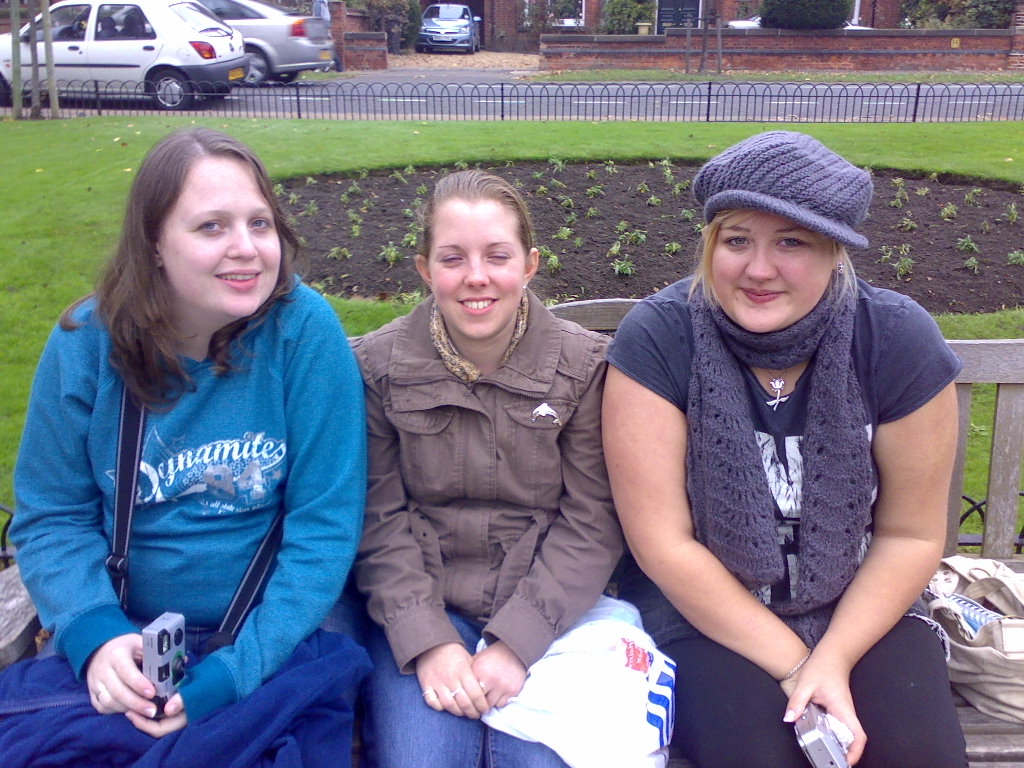 These are my angels. Hannah, Laura and Serena. This week we've had both Laura's Birthday and Graduation.
So the festivities of sorts lol started Thursday Morning with our graduation – photos can be found here. (And if you get bored while at Facebook add me!)
Anyhoo so after lots and lots of posing for different photos (That was Chris(taking mine), Hannah's Dad, Serena's Mum, Laura's Boyfriend and Mum). We dispursed with our respective families. Mum, Dad, Chris and Me headed to The Orchard for lunch to find that Serena was there too. About 5 minutes after we had sat down Hannah and family arrived for lunch too (They were heading for Frankie and Benny's but the queue was too long or something to do with the food – Hannah add a comment and correct this please lol).
After lunch Chris and me went home to nurse our over stuffed tummys. I got my bits together ready for my first night on the town in what seems ages and headed for the Hotel where the girlies were staying. We went out to Bankers Draft, followed by Time Out – there was a trip to a supermarket in the middle as Laura was feeling hungry (and a little sick all at the same time so we needed something sensible like a sandwich rather than a chicken burger from a greasy takeout).
I dropped the girlies back at the hotel about 2am and was at home in bed by 2:30am – but could not sleep – my ears were ringing really loudly (at one point they were ringing so loud I couldn't actually hear myself breathing lol). I fell asleep about 3:30 and woke up at 10am the following morning – I didn't actually feel tired until the following evening and for most of Saturday.
Friday started at a bit of a rush I seemed to have left everything to the last minute lol. I was trying to address envelopes for stuff that I had sold on PlayTrade. They needed to go sooner rather than later as I get a rating for the service provided etc. So they were addressed and ready to go – just neeed to get to the post office.
So I sort everything out, while having several conversations with Laura and Hannah to find out where we are meeting and when. I lost the opportunity for town as I was busy faffing. I went to meet the girlies at the supermarket and when I got there they weren't there yet so I went to look at the books, I could have spent sooooo much money -I need a job so that I can buy some books (and still find the time to read them lol!)
Hannah then phoned me to tell me that they were there – but I missed her call because I was too busy reading one of the books that I didn't notice my phone ringing in my bag.  I then walked round the end of the shelf and there were my girlies. We grabbed some sandwiches and a drink and headed for the Embankment to enjoy our picnic – Yes I know British October and we had a picnic lol. The four of us sat on one of the benches and we were so close together that we kept each other warm and were sorted for the time we were there. We took some silly photos which included me sitting on Laura's lap leaning backwards over her shoulder to try and take a picture of us four altogether.
I then had to go so that I could go see David and Yolissa (my cousin and his girlfriend who rocks!)