Around five weeks ago I wrote a post about Ade and his company Masquerade.
2010 is the year that Masquerade is celebrating 20 years in the business.
Unfortunately I couldn't attend the premiere of Masquerade Reloaded but I was still able blog about it.
I was supposed to be back with Part Two but in that way that life does sometimes, it caught up with me. Ade emailed me this morning asking where his blog post is.
Ade here it is…..
So to recap a little.
Masquerade is an events company from London.
Adrian "Ade/Dr M" Silas is the Founder, Creative Director and the Man with the Plan(s). Ade loves his crazy characters to go with each theme including Vlad (He's  KGB agent so think James Bond baddies), Don Vlad (New York Gangster – so think Godfather?), Ronnie Capri (Reformed Essex Playboy) and last but not least theres Dr M (this started as a character but is now one of Ade's nicknames! I think I knew him as Dr M before I knew his name was Ade/Adrian!) . There's even an idea on the drawing board for Ade to host an Alice in Wonderland themed party with Ade as the Mad Hatter!!!
Anyway thats not why I am here. I'm here to write about the highlights and clips that are currently on Masquerade UK's Website.
So following the short clips of interviews, we go to a behind the scenes look at the Premiere – starting with the guest of honour as DR M's Mum arrives (Mum is one of the VIPs, isn't she?)
Ade starts by talking about how Masquerade got started, originally it started just by organising Weddings.
The Camera man then pops round and talks to various people who help Ade.
(This is Colin with the girlies who were helping host the evening)
Janet the lovely Make Up lady also talks about the crazy make up that Ade has asked her to work on including painting some people purple (or is it orange?!) to be Oompa Loompas for a Charlie and The Chocolate Themed party.
The Venetians were on hand to welcome the guests outside
At some point a giant penguin appears – Ade will have to tell me about where the penguin fits in because I don't know.
From the behind the scenes clips and information that Ade has sent me I can imagine that it was good fun and that lots of people were there enjoying themselves.
So that's the first 20 years of Masquerade but Ade isn't stopping there he's got plans for a Club Masquerade night, he's working with Richard Vobes (of Vobes.com) to create his own podcasts and to top that off he's hosting a Twevent (aka in some circles as a Tweet up) with a Bat-Theme. Unfortunately if I'm invited to this one I'll have to decline again (I'll be at the Gadget Show Live in Birmingham that day!!)
(Then again having watched the behind the scenes video of all these beautiful people I would have been a right scruff bag!!!)
If you are interested in contacting Ade:
Email: ade at Masquerade dot Com
Twitter: @drmasquerade
He's also started a blog which you can find here. (The header is a bit bright but scroll down it'll be okay!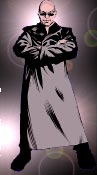 He even has his own cartoon character!