Hello one and all
I'm sorry for the delay, although there was wifi at the conference centre it hadn't actually crossed my mind to take my MacBook with me.
With help from random.org I was able to find a winner (I tried blogging from my phone – I even tried my own version of a random generator which involved tearing up a newspaper and using the pocket on my bag to draw a name from the hat)
I decided now that I'm home I'd do a proper version.
So the winner is *drum roll*
Heather!!!!
Heather blogs at Simply Hmm which you can find here.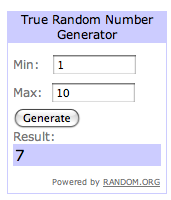 Heather – I will be in touch.
Everyone else – hopefully I will be able to host a giveaway somewhere down the road.